Triathlon gear review from Nadezhda Pavlova
-By Nadezhda Pavlova
Introduction
Looking for the best gear with great aerodynamic gains to compete in your next triathlon race? The right gear is a key purchase for your race to reach your personal best. It should not be too tight, cause chafing, too loose, or poorly made.
I have recently come across the tri specific brand SUMARPO which aims to provide the most eco-friendly and professional triathlon gear for triathletes and I thought I should check it out. I have given multiple tests on the trisuit and here are my thoughts on it.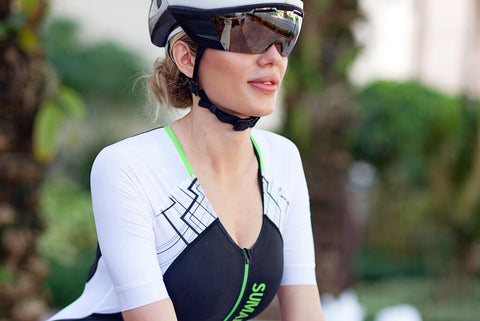 SUMARPO Women's Hybrid Trisuit
SUMAPRO Women's Hybrid Trisuit is specifically designed to meet the demands of athletes. It's made with premium quality materials matched with an aerodynamic design, allowing athletes to optimize their performance.
The fabric used for this trisuit is a combination of eco-friendly polyamide and lycra. This blend of fabric provides compression benefits, allowing muscle stability while reducing lactic acid for optimal circulation.
The material used on this trisuit is also very elastic and has a high recovery force. This helps reduce wind resistance for better overall performance.
Overall, this is a great trisuit. It has a good fit that feels like a second skin, so it's comfortable to wear while doing sports. It's also made with high-quality material, and the stitching is very reliable.
It's suitable for all distance races - from sprint to full Ironman races, and it can be used for a variety of sports like swimming and cycling. Plus, it's 100% eco-friendly because it uses fabrics focusing on sustainability, and it's a quick-drying fabric, aerodynamic without chafing the skin.
When it comes to its features, it has a pro pad for added comfort with an effective leg gripper, especially for the bike leg, but it's not that thick, making it ideal for the final run leg.
Another feature is that the front zipper is added for extra cooling. This makes controlling body temperature easier, especially on the bike and the run leg. For the upper part of the suit, its shoulder and sleeves help protect your skin from sunburns. It also has an extra two rare pockets to store your fuel.
All in all, this durable suit is environmentally friendly that is perfect for short and long-distance activities. It's comfortable, fits like a second skin, and has plenty of shoulder flex and mobility for extra movement.
One note:
Pick your size carefully to make sure the stomach covering sits correctly.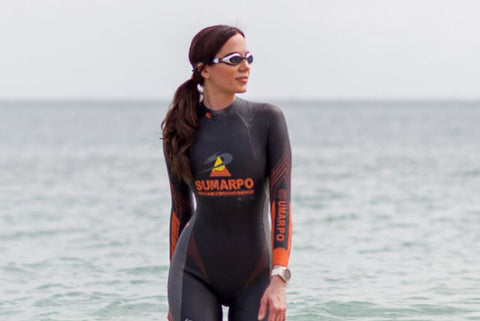 SUMARPO Women's Victory Wetsuit
SUMARPO Women's Victory Wetsuit is designed to be functional and stylish. It's made with a highly flexible material that allows athletes to move comfortably in the water. The materials used for this wetsuit are also environmentally friendly. Aside from that, it's also designed to have a quick-release angle panel and ergonomic collar, and aerodynamic design.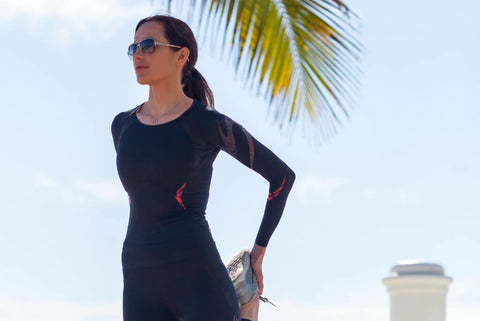 SUMARPO Women's Generator Top + Compression Tights
There are several reasons why I love the Generator top and tights. The main reason is the amount of compression that it provides. However, despite giving plenty of compression garments, it still does not feel uncomfortable, thanks to its well-thought-out design.
Besides this, it's made with high-quality material that can withstand wear and tear for an extended period. At the same time, the material is extremely breathable and comfortable.
Conclusion
If you are looking for a new eco-friendly high-performance suit with great value for money to race this year look no further, SUMARPO will be a good choice!
---